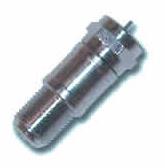 Vendor Note:
Minimum Order of $28
All Orders Under $112 Will Incur A $5 Per Order Handling Fee
Orders Over $2841 Ship Free Freight, And For Gates, A Minimum Of 8 Gates Are Required To Qualify For Free Shipping
All Shipments Are Prepaid Using The Most Economical Method
2501-10
Vendor: Linear Corporation
The Model 2501-10 Blocking Capacitor (10-pack) is used in systems where DC and/or infrared control pulses are present on the coaxial cable. When such signals are not wanted or might be shorted out by downstream video products, a Model 2501-10 blocking cap can be inserted in an individual coaxial cable feed. The capacitor serves like an open circuit to DC and low-frequency IR control signals, yet passes all RF signals on. Example: Using a 12-volt IR system and not using Model 2100A wall plates at all coax drops, insert a Model 2501-10 on the end of the coax.
Notes: *Pack Of 10*
List: $28.89
Dealer: $N/A
Features
10 piece bulk pack
Blocks DC IR signals
Passes RF signals
Type F barrel connector
Product Dimensions
Other Information
Install Hours: 0 *

Phase: n/a

Industry: n/a

Voltage: n/a

Rack Mount: No

Rack Units: 0

Bulk Wire: No

Diameter: 0
* Product install times are provided for reference purposes only. Actual install time may vary. Product install times indicate estimated time to install the product under normal conditions based on industry research and does not take into account other considerations such as travel, un-boxing, programming, commissioning, or other factors.