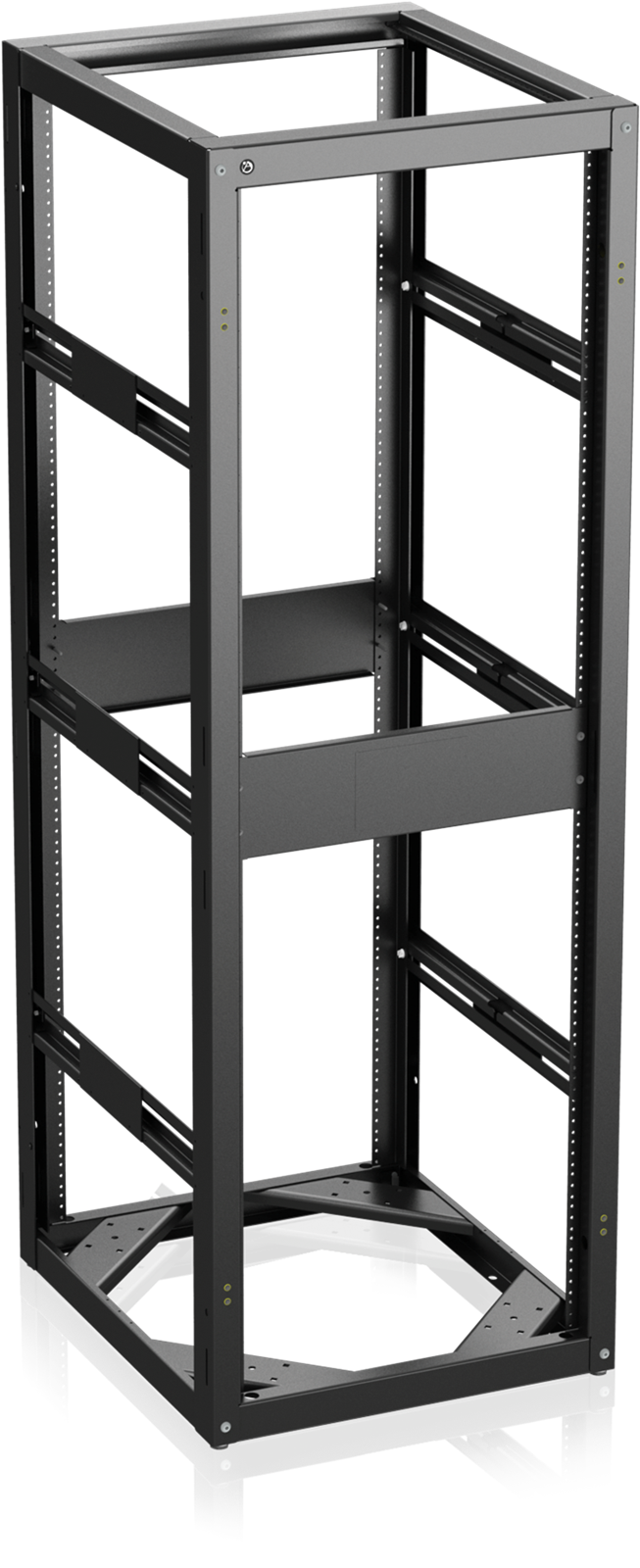 Vendor Note:
Minimum Order of $57
Orders Over $2841 Free Freight
$10 Drop Shipment Fee
Specify The Color
962 Textured Black Is The Standard
735-25
Vendor: AtlasIED
For single and multiple bay configuration installs requiring additional weight capacity and extended depths, AtlasIED offers the 14-gauge frame construction of the 735-25. The 735-25 is 22 1/2'' wide, 25'' deep, and has 35 vertical panel spaces. Multi-formed and welded frame members provide superior strength and load bearing capability. Base is constructed of double-formed front and rear sections, MIG welded and reinforced with 11-gauge CRS corner caster gussets. Vertical columns interlock with frame top and base adding double material thickness for superior load bearing capability. Mounting rail channel support members are multi-formed and MIG welded for superior interlocking support. Panel mounting rails are fully adjustable front to rear. Base includes four 3/8''-16 threaded sockets to accept leg levelers (Models LL-1) and four 11-gauge CRS corner gussets that are punched to accept casters. Base also has provisions to be permanently secured to the floor. Shipped with 2 pair of 11-gauge CRS adjustable mounting rails. Rack rails are precision tapped 10-32 and recessed 1 3/16'' (30mm). These plated rails include convenient RU indicator hash marks to aid in equipment alignment. Rails are standard E.I.A. 5/8''-5/8''-1/2'' spacing. Hat sections are on 19'' panel spacing to accommodate vertical accessory mounting. This cabinet sports a solid secure professional look without punched vents. Therefore, thermal air-flow design may be precisely designed and maintained without the fear of contaminants or other foreign/damaging objects entering through vents. With the addition of optional Seismic Bracket, SBK-700, 700 Series Racks can be certified in accordance to the Telcordia NEBS (Network Equipment Building Systems) GR-63-CORE standard. When the SBK-7-- brackets are properly installed, the 700 Series successfully endured the rigorous real-world dynamic test - the racks are able to withstand up to a zone 4 earthquake which is comparable to Richter magnitude 8.0
Notes: n/a
List: $1019.99
Dealer: $N/A
Features
35RU to 44RU Heights in 25 1/2'' Depth
Heavy Duty 14-Gauge Frame Construction
The Perfect Rack to Handle Installations of Heavy Rack-Mount Equipment
Optional Rear Door Offers Right or Left-Hand Hinging Capability
Increased Opening Base Facilitates Wiring Conduit or to Access Below Floor Raceways
Two Functional 3 RU Blank Panel (5 14'') Provided
Manufactured to E.I.A. Standards
Pre-Drilled to Accept M-1A Cabinet Mount IR Repeater
Optional Seismic Bracing Kit Available (SBK-7XX)
UL 1678 Listed
Product Dimensions
Other Information
Install Hours: 4 *

Phase: Finish

Industry: n/a

Voltage: n/a

Rack Mount: No

Rack Units: 35

Bulk Wire: No

Diameter: 0
* Product install times are provided for reference purposes only. Actual install time may vary. Product install times indicate estimated time to install the product under normal conditions based on industry research and does not take into account other considerations such as travel, un-boxing, programming, commissioning, or other factors.