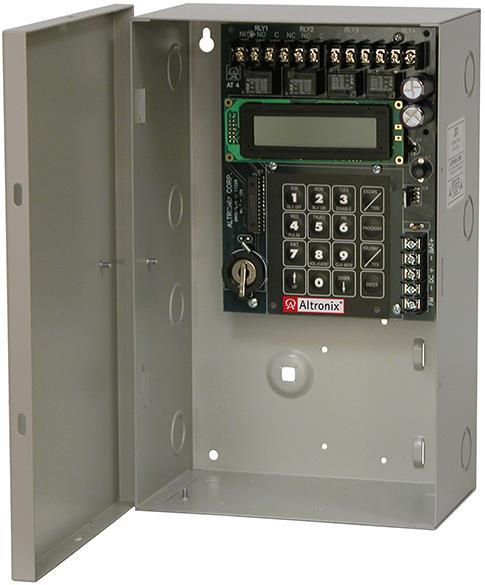 Vendor Note:
Lead Time Trove Products 25-30 Business Days, All Other Products 7-15 Business Days, Lifetime Warranty on All Products
AT4
Vendor: Altronix Corporation
AT4 is an extremely versatile 24 Hour 365 Day Event Timers designed to support a wide range of applications. Such applications include: Home and Building Automation, Security, Access Control, Lighting Control, Etc.
Notes: *Lead Time 7-15 Business Days*
List: $354.40
Dealer: $N/A
Features
12 to 24 volts AC or DC operation.
Standby current: 20mA with relays off combined with 40mA for each relay on.
Four (4) Form ''C'' relay contacts are rated 10A @ 120VAC/28VDC.
Each relay operates independently.
Momentary and/or Latching Events.
254 individually programmed daily/weekly events.
Block programming capacity can accommodate a total of 1778 events per week.
254 programmable Holiday events.
EE Prom memory protects against loss of programming due to power failure.
Clock synchronization 60Hz (AC operation).
Accurate crystal controlled clock (DC operation).
''First man in'' option.
Standard or Daylight Savings Time settings.
Automatic compensation for leap year.
Built-in charger for 12VDC sealed lead acid or gel type batteries (Max. charge current 300mA).
Lithium battery backup maintains clock. Order Altronix part # LB2032.
Alphanumeric LCD display simplifies programming.
Relative Humidity 85% +/- 5%.
Product Dimensions
Other Information
Install Hours: .25 *

Phase: Finish

Industry: n/a

Voltage: 120 V AC

Rack Mount: No

Rack Units: 0

Bulk Wire: No

Diameter: 0
* Product install times are provided for reference purposes only. Actual install time may vary. Product install times indicate estimated time to install the product under normal conditions based on industry research and does not take into account other considerations such as travel, un-boxing, programming, commissioning, or other factors.