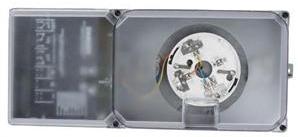 Vendor Note:
There Is An Up-Charge For PAL And CCIR Equipment
Certification Required For Certain CCTV Products And For ReadyKey Pro, BIS, SC, SE Product Line
D341
Vendor: Bosch Security Systems
The D341 Duct Smoke Detector Housings mount on the ducts of heating, ventilation, and air conditioning -HVAC systems to monitor the presence of smoke in the conditioned air. The housing works with all 24 VDC or VAC or 120 VAC, UL Listed fourwire control panels. The efficient housing design samples the air passing through a duct and detects potentially hazardous conditions. When smoke is ...
Notes: *3-Days or Less Lead Time / Contact PSA*
List: $141.00
Dealer: $N/A
Features
Clear cover allows quick visual inspection
Detector test and reset without removing covers
Easy duct tube installation through the housing cuts installation time.
For 1 ft (30.5 cm) to 10 ft (3 m) ducts with air velocity between 300 ft/min to 4000 ft/min (1.52 m/s to 20.3 m/s)
Product Dimensions
Other Information
Install Hours: 0 *

Phase: n/a

Industry: Security

Voltage: n/a

Rack Mount: No

Rack Units: 0

Bulk Wire: No

Diameter: 0
* Product install times are provided for reference purposes only. Actual install time may vary. Product install times indicate estimated time to install the product under normal conditions based on industry research and does not take into account other considerations such as travel, un-boxing, programming, commissioning, or other factors.