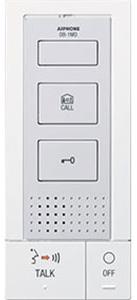 Vendor Note:
Minimum Order of $56, Or $10 Order Minimum Fee Will Be Applied
Orders Over $2794 Free Freight
If Shipped Air, Ground Freight Will Be Credited
Return Fee of $5 To $10 If Re-boxing Is Required
If Shipping To Canada There Is A Price Increase
Free Freight Does Not Apply To Wire
Wire Is NON Returnable
DB-1MD
Vendor: Aiphone
Open voice master station
Notes: *2-4 Day Lead Time For Stock Items*
List: $192.00
Dealer: $N/A
Features
All Call between stations in same residence / office
Option button for external device control (N/O dry contact, AC/DC 24V 1.6A Max)
Call tone volume control with LED mute indicator
Receive volume control
Optional Call Extension Speaker (IER-2)
Optional external signaling to 3rd party bell or light using RY-ES (used in lieu of IER-2)
Door release button (powered by door station)
Product Dimensions
Other Information
Install Hours: .5 *

Phase: Finish

Industry: Commercial AV, Residential AV, Telecom

Voltage: n/a

Rack Mount: No

Rack Units: 0

Bulk Wire: No

Diameter: 0
* Product install times are provided for reference purposes only. Actual install time may vary. Product install times indicate estimated time to install the product under normal conditions based on industry research and does not take into account other considerations such as travel, un-boxing, programming, commissioning, or other factors.