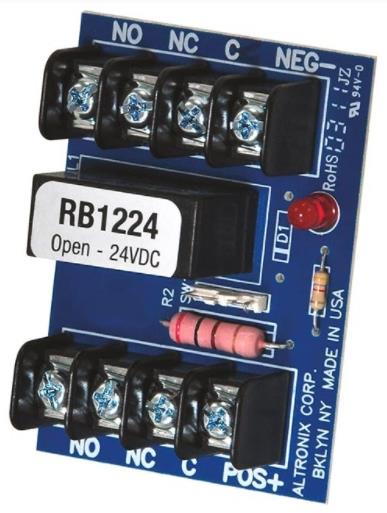 Vendor Note:
Ground Orders Ship In 3-5 Business Days\n
Lifetime Warranty on All Products
RB1224
Vendor: Altronix Corporation
RB1224 Relay Module can be utilized in many different applications such as: Dry Contact, Line Seizure, Polarity Reversal, Latching Dry Contact, and much more. The RB1224 is snap track mountable.
Notes: n/a
Features
n/a
Product Dimensions
Other Information
Install Hours: .5 *

Phase: Finish

Industry: Security

Voltage: 24 VDC

Rack Mount: No

Rack Units: 0

Bulk Wire: No

Diameter: 0
* Product install times are provided for reference purposes only. Actual install time may vary. Product install times indicate estimated time to install the product under normal conditions based on industry research and does not take into account other considerations such as travel, un-boxing, programming, commissioning, or other factors.