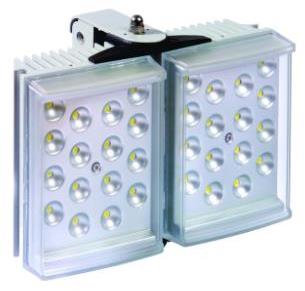 Vendor Note:
20% Restocking Fee
Ships UPS Ground Unless Account Is Provided
Must Use Expedited Shipping To Avoid Brokerage Fees
Customers Fee, Ships From Canada
RL100-AI-50
Vendor: Raytec Systems Inc
The RAYLUX series of mains powered White-Light illuminators provides class leading night-time performance, long life and requires zero maintenance. They incorporate the very latest surface mount LEDs to deliver even illumination and true colour images for both surveillance cameras and general area lighting. RAYLUX is a quick start lighting solution, making it perfect for deterring crime on alarm; unlike other traditional technologies which are slow to start. The unique Adaptive Illumination concept provides the flexibility to alter the angle of illumination on site to match the exact camera field of view. Each unit is also fitted with Active LED Life Control to deliver a consistent working life of 10 years. RAYLUX illuminators are supplied with a dedicated power supply as standard. The RAYLUX 100 delivers maximum distances up to 120m (394ft).
Notes: n/a
List: $1118.00
Dealer: $745.00
Features
Mains Powered White-Light LED Illuminators
Surface Mount LED Technology
Long 10 Year Life - Zero Maintenance
Adaptive Illumination
Various Angles (10-120)
Accurate Colour Rendition
Quick Start
Even Output Illumination
Active LED Life Control
Supplied with Dedicated Power Supply Unit
Product Dimensions
Other Information
Install Hours: 0 *

Phase: n/a

Industry: n/a

Voltage: n/a

Rack Mount: No

Rack Units: 0

Bulk Wire: No

Diameter: 0
* Product install times are provided for reference purposes only. Actual install time may vary. Product install times indicate estimated time to install the product under normal conditions based on industry research and does not take into account other considerations such as travel, un-boxing, programming, commissioning, or other factors.