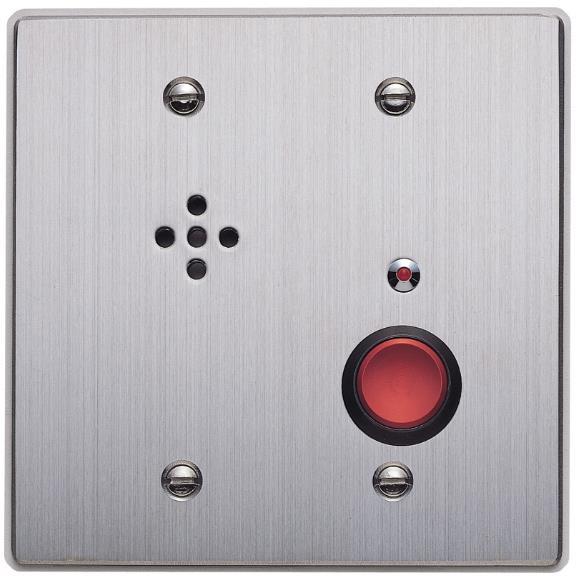 Vendor Note:
Intercom Products Not Availlable Through PSA
Orders Over $2795 Free Freight
RS-180
Vendor: TOA Electronics, Inc
The RS-180 panic vandal resistant single button outdoor call panel substation is ADA compliant and is designed to be used with the N-8000RS or N-8010RS substation interfaces. It provides a 4cm (1.57in) speaker for clear audio and a single vandal resistant red anodized metal call button, with button bezel, allowing for simple call-in operation. The call button can be programmed to report to any master station based on job specification. Additionally the substations front faceplate is made from thick 11 gauge stainless steel stock for added durability and the circuit boards have been weather treated for moisture exposed installations. Visual call-in progress feedback is achieved with a red LED above the call switch. An open collector trigger is provided for local triggering by the call-in button for devices such as a strobe light or other indicator while a call is in progress. The substation requires 3-conductor shielded twisted pair (STP) wiring and mounts in a standard US dual gang flush or wall mount box.
Notes: *Stock Items 5-7 Business Days Lead Time / Items Not In Stock Have Extended Lead Times-Contact PSA*
List: $239.00
Dealer: $N/A
Features
Provides half-duplex communication.
Heavy-duty brushed stainless steel faceplate, #11 Gauge.
Vandal resistant call button and speaker plate.
May be programmed to communicate with a single master station.
Red Call Assurance LED for ADA-compliance.
Labeling area for ADA-compliant message.
Control output - open collector type for external relay control.
Open collector circuit is activated when the ''Call'' button is pressed and stays active until the call is completed.
Open collector circuit is typically used to trigger a strobe light at the remote station location to indicate the station is in use. (Strobe light and relay supplied by other vendors.)
Open collector circuit is not remote controllable from other devices.
Weather resistant conformal printed circuit board coating.
Connects to N-8000RS/N-8010RS.
Mounts in two-gang, 2.25'' deep electrical box with adapter ring (supplied by other vendors).
Up to (16) sixteen RS-1x0 Remote Stations can be used per N-8000RS/N-8010RS exchange
Product Dimensions
Other Information
Install Hours: 0 *

Phase: n/a

Industry: n/a

Voltage: n/a

Rack Mount: No

Rack Units: 0

Bulk Wire: No

Diameter: 0
* Product install times are provided for reference purposes only. Actual install time may vary. Product install times indicate estimated time to install the product under normal conditions based on industry research and does not take into account other considerations such as travel, un-boxing, programming, commissioning, or other factors.