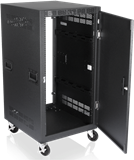 Vendor Note:
Minimum Order of $57
Orders Over $2841 Free Freight
$10 Drop Shipment Fee
Specify The Color
962 Textured Black Is The Standard
RX21-30
Vendor: AtlasIED
The RX21-30 mobile cabinet is ruggedly constructed of 16-gauge CRS and include heavy-duty casters. Equipped with a front pair of 11-gauge CRS adjustable mounting rails tapped 1032 on standard E.I.A. 5/8''- 5/8''-1/2'' spacing. Optional RR21 rear mounting rails are available for additional support. Front-to-rear mounting rail supports have slotted cutouts to easily adjust rail depth and to provide open raceways for containing vertically run wire and cable. The RX21 features the additional benefit of having the supports positioned 19'' apart to accept standard panel width accessories mounted in vertical orientation. Cabinet is 30'' deep and has a vertical panel space height of 36 7/8'' It features one pair of recessed, hinged, and rubber-padded steel grips on each side (four total) for transport convenience. Easy wiring access is provided through three wire isolation holes (two, 1 1/2'' dia., and one oblong 1 1/2'' x 3'') in the rear base flange. The units' four, oversized, heavy-duty casters, two of which are locking, ensure smooth mobility, and have a load capacity of 175 lb. each 700 lb. total weight capacity. Shown with optional front door: SFD21. Cabinet is finished in #962 black epoxy.
Notes: *Doors Sold Separately*
List: $928.99
Dealer: $N/A
Features
16-Gauge CRS Frame Manufactured to E.I.A. Standards
Four, 4'' Heavy-Duty Casters (175 lb. cap./ea.)
Includes 1 Pair Adjustable, 11-Gauge, Front-to-Rear Mounting Rails
Mounting Rail Supports with Slotted Cut-Outs for Vertical Wire Management
Perforated Front and Rear Top Flanges, Sides and Rear Door Provide Ventilation and Dissipation of Equipment-Generated Heat
Removable Front and Rear Doors (Right or Left-Hand Hinging) are Identically Keyed for Security and Convenience
Optional Removable Front and Rear Doors (Right or Left-Hand Hinging) are Identically Keyed for Security and Convenience
RR21 Optional Rear Mounting Rails Available
Rubber-Padded Steel Grip ''Road Handles'' (2 Per Side)
Standard Rack Includes Base, Top Panel, Side Panels, Casters, Front and Rear Doors
Three Wire Isolation Holes Located on Bottom of Rear Panel for External Wire Access
Welded Frame for Long-Lasting Durability
Product Dimensions
Other Information
Install Hours: 4 *

Phase: Finish

Industry: n/a

Voltage: n/a

Rack Mount: No

Rack Units: 0

Bulk Wire: No

Diameter: 0
* Product install times are provided for reference purposes only. Actual install time may vary. Product install times indicate estimated time to install the product under normal conditions based on industry research and does not take into account other considerations such as travel, un-boxing, programming, commissioning, or other factors.