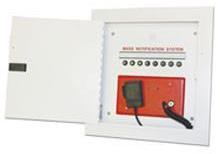 Vendor Note:
Prices Subject To Change Without Notice
SP4-LOC-SB
Vendor: Cooper Notification (Wheelock)
The SP4 ?LOC Remote Microphone and Local Operator Console is designed to be used with the Facility Communications System using the SafePath4 SP40/2 and the SP40S panels. It contains the SafePath4 SPRM Remote Microphone Module and eight black Push On /Push Off buttons which provide a contact closure to activate the SP40/2 or the SP40S digital messages in the Push On position. These buttons change color from black in the OFF position to green in the ON position. A message name plate holder is located above the pushbuttons. An optional red mushroom type, cutoff pushbutton is available for HVAC emergency shutoff.
Notes: n/a
List: $2509.29
Dealer: $N/A
Features
All message wiring is pre-wired to a terminal block
Internal terminal block accepts up to 16 AWG wiring for filed wiring
Built-in SPRM requires 24VDC, supplied by the SP40/2 or SP40S
SPRM Input current: Standby: 26mA Alarm: 38mA
All output circui
Product Dimensions
Other Information
Install Hours: 0 *

Phase: n/a

Industry: n/a

Voltage: n/a

Rack Mount: No

Rack Units: 0

Bulk Wire: No

Diameter: 0
* Product install times are provided for reference purposes only. Actual install time may vary. Product install times indicate estimated time to install the product under normal conditions based on industry research and does not take into account other considerations such as travel, un-boxing, programming, commissioning, or other factors.