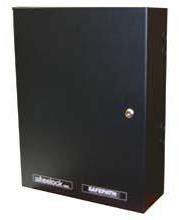 Vendor Note:
Prices Subject To Change Without Notice
SPB-320
Vendor: Cooper Notification (Wheelock)
The SAFEPATH Supervised Audio and Audio/Strobe Power Boosters with 24VDC battery backup capabilities are designed for the SAFEPATH4 Voice Evacuation System and SAFEPATH Mass Notification System to provide for additional supervised audio power for live voice or pre-recorded messages. Multiple SPB-320, SPB-160 and SPB-80/4 Audio Boosters can be inter-connected to accommodate large installations with supervised audio power and also supervised and synchronized strobe power requirements. SPB-320 - 320 Watt Supervised Audio Power Booster includes four 80 watt circuits SPB-160 - 160 Watt Supervised Audio Power Booster includes two 80 watt circuits SPB-80/4 - 80 Watt Supervised Audio Power Booster includes one 80 watt circuit and two 2 amp strobe circuits (4 amps total)
Notes: *10-Day Lead Time*
List: $6176.94
Dealer: $N/A
Features
n/a
Product Dimensions
Other Information
Install Hours: 0 *

Phase: n/a

Industry: n/a

Voltage: n/a

Rack Mount: No

Rack Units: 0

Bulk Wire: No

Diameter: 0
* Product install times are provided for reference purposes only. Actual install time may vary. Product install times indicate estimated time to install the product under normal conditions based on industry research and does not take into account other considerations such as travel, un-boxing, programming, commissioning, or other factors.