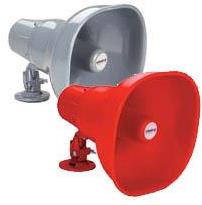 Vendor Note:
Prices Subject To Change Without Notice
STH-15S
Vendor: Cooper Notification (Wheelock)
The Wheelock Series STH-15S supervised horn loudspeakers are surface-mounting, high-efficiency units for life safety and communication system applications. When used with compatible control equipment, they provide high-intelligibility voice reproduction and signal transmission for indoor or outdoor emergency alarm and protective signaling.
Notes: *3-Day Lead Time*
List: $204.92
Dealer: $N/A
Features
15-Watt High Efficiency Compression Driver
Weather-resistant, vandal-resistant aluminum construction assures protection against water, humidity, vermin, and corrosion
Reentrant acoustic path
25/70/100 V transformer featuring a screwdriver adjustable, 7-position watt/impedance selection switch
5 mfd Capacitor for Line Supervision
Simplified, universal-mounting bracket adjustable in horizontal and vertical planes with banding slots for beam or pillar mounting
Installation terminals and power selector are recessed mounted, and protected by the metal interface adapter, or clear plastic shield
Product Dimensions
Other Information
Install Hours: 0 *

Phase: n/a

Industry: n/a

Voltage: n/a

Rack Mount: No

Rack Units: 0

Bulk Wire: No

Diameter: 0
* Product install times are provided for reference purposes only. Actual install time may vary. Product install times indicate estimated time to install the product under normal conditions based on industry research and does not take into account other considerations such as travel, un-boxing, programming, commissioning, or other factors.