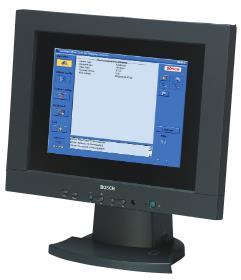 Vendor Note:
There Is An Up-Charge For PAL And CCIR Equipment
Certification Required For Certain CCTV Products And For ReadyKey Pro, BIS, SC, SE Product Line
VP-CFGSFT
Vendor: Bosch Security Systems
The Configuration Tool for Imaging Devices (CTFID) from Bosch Security Systems increases efficiency for CCTV installers and service personnel. CTFID uses Bilinx Technology, a bidirectional communication method, embedded in the video signal of all of the latest analog Bosch Dinion, FlexiDome, AutoDome, and MIC Series cameras. Using CTFID, technicians can check status, change settings, control pan/tilt/zoom (PTZ), and even update firmware from virtually anywhere along the video cable. This reduces the time for troubleshooting and service, while providing more accurate setup and adjustment, all without running additional wires or boxes. Simply connect the Configuration Tools Coax to the USB adaptor from your laptop PC. You then have total access to all camera or dome settings. Because Bilinx Technology uses the standard video signal to transmit and receive data, it will also work over any passive UTP installation. CTFID is supplied with a small hardware adaptor that plugs into any USB-compliant port supported by a Windows operating system. Once the CTFID software is loaded, the adaptor communicates over the video signal from any Bilinx-enabled camera or AutoDome.
Notes: n/a
List: $440.00
Dealer: $N/A
Features
Upload, copy and paste configurations for multiple cameras over the video cable Set up and configure analog Bosch Dinion, FlexiDome, AutoDome, and MIC Series cameras Control AutoDomes and MIC Series cameras over the video cable Perform camera firmware updates USB compatible
Product Dimensions
Other Information
Install Hours: 0 *

Phase: n/a

Industry: Security

Voltage: n/a

Rack Mount: No

Rack Units: 0

Bulk Wire: No

Diameter: 0
* Product install times are provided for reference purposes only. Actual install time may vary. Product install times indicate estimated time to install the product under normal conditions based on industry research and does not take into account other considerations such as travel, un-boxing, programming, commissioning, or other factors.