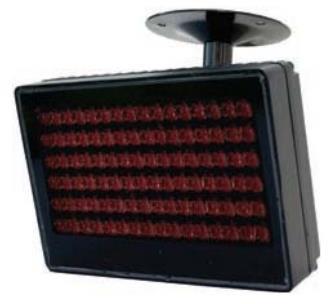 Vendor Note:
No additional information available.
IR229-A30-24
Vendor: Iluminar Inc
IR illumination is an ideal source of illumination for security cameras for the following reasons. It is invisible to the human eye but visible to black/white and true day/night cameras, which makes it ideal as a covert/none obtrusive form of illumination. Because it is invisible to the human eye it does not create the problem of light pollution. It has a longer range than visible light due to the higher wavelength (up to approx. 1000' or 305m) All Iluminar's Infrared illuminators are designed to provide superior IR lighting for CCTV systems. They are available with a range of angles to cover different ranges and scenes.
Notes: n/a
Features
IR illuminator with LED technology
Distances up to 229 (70m)
Various angles (10o , 20o , 30o )
850nm or 940nm Wavelengths
Low power consumption
Even illumination
No maintenance required
3 year warranty
IP67 weatherproof rating
c/w wall mount
Built-in photocell IR on/off
24VAC input
Product Dimensions
Other Information
Install Hours: 0 *

Phase: n/a

Industry: n/a

Voltage: n/a

Rack Mount: No

Rack Units: 0

Bulk Wire: No

Diameter: 0
* Product install times are provided for reference purposes only. Actual install time may vary. Product install times indicate estimated time to install the product under normal conditions based on industry research and does not take into account other considerations such as travel, un-boxing, programming, commissioning, or other factors.