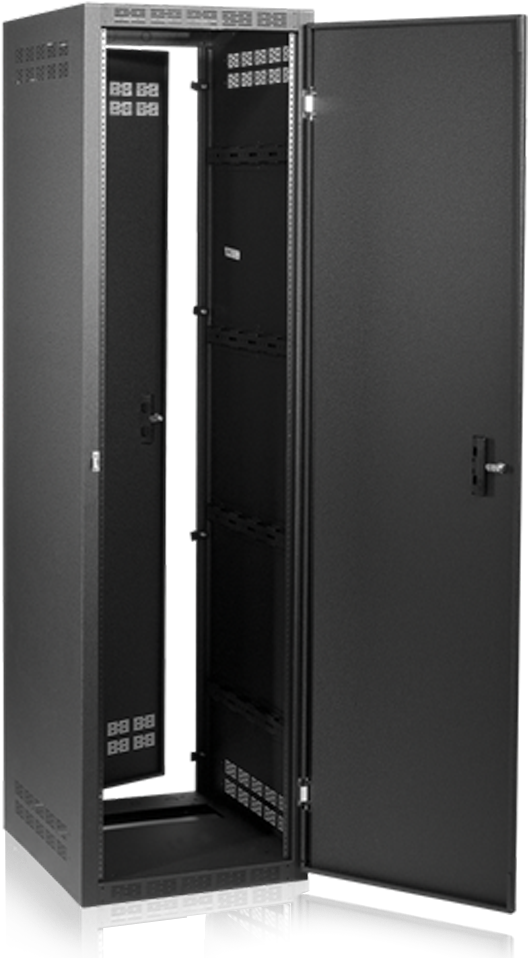 Vendor Note:
Minimum Order of $57
Orders Over $2841 Free Freight
$10 Drop Shipment Fee
Specify The Color
962 Textured Black Is The Standard
244-30
Vendor: AtlasIED
The economical AtlasIED 244-30 cabinet is 22 5/16'' wide, 30'' deep, and contains 44RU vertical panel spaces. The 244-30 cabinet includes one pair of 11-gauge CRS adjustable mounting rails. The series is constructed of 16-gauge CRS and include base, top panel, side panels, mounting rails, a removable rear door with cylinder lock and flush door pull handle. Offers several installer-friendly advantages, including an expanded 6RU opening in the cabinet top and bottom which can be left open for wire access and/or ventilation, or closed using a standard vent or solid panels. Rear doors (included with all models) are hung with quick-release spring hinges which allow them to be rotated 180 for right or left-hand opening. If a front door is ordered, it will be keyed differently than the rear door for security. Rack rails are precision tapped 10-32 and recessed 11/16'' (17.5mm). These plated rails include convenient RU indicator hash marks to aid in equipment alignment. Rails are standard E.I.A. 5/8''-5/8''-1/2'' spacing. Conduit arrays are located on the top and bottom surface panels, as well as the top and bottom back flanges. Flange arrays consist of five knockouts, three 1'' (25mm) standard, and two 1/2'' (13mm) x 3/4'' (19mm) concentric. Surface arrays are comprised of 4 knockouts, two, 1'' (25mm) standard knockouts and two 1/2'' (13mm) x 3/4'' (19mm) concentric. Stamped, perforated vents are located on all sides as well as on the rear door to allow for maximum air convection. Cabinet surfaces are phosphate pre-treated for proper paint adhesion of the textured black epoxy finish.
Notes: n/a
List: $1163.99
Dealer: $N/A
Features
21RU to 44RU Heights, 30'' Depth
Adjustable Rack Rails
The Best Value in the Industry
Product Dimensions
Other Information
Install Hours: 4 *

Phase: Finish

Industry: n/a

Voltage: n/a

Rack Mount: No

Rack Units: 44

Bulk Wire: No

Diameter: 0
* Product install times are provided for reference purposes only. Actual install time may vary. Product install times indicate estimated time to install the product under normal conditions based on industry research and does not take into account other considerations such as travel, un-boxing, programming, commissioning, or other factors.