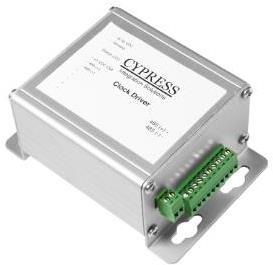 Vendor Note:
No additional information available.
CCX-1360
Vendor: Cypress Computer Systems Inc
For 3104 - 8 - 16 VDC required. Overall dimension 4.75 x 3.0 x 2.0 Durable Aluminum Enclosure. Cypress synchronized display clocks are used to display the time from a master clock panel or access control system. Using an RS-485 twisted pair network, up to 32 clocks can be wired together in series and driven from a single time source. Clock drivers are available to provide compatibility with various access control panels, as well as an RS-232 driver for general computer applications. Dimensions 13.5 x 7.5 x 2.25.
Notes: *Requires 8 - 16 VDC*
List: $472.50
Dealer: $N/A
Features
DIP Switch Programming
Mercury Panel interface
Board Only with holes for standoff mounting
8 to 16 VDC Operation
RS-485 Clock Communications
RS-485 panel interface
Product Dimensions
Other Information
Install Hours: 0 *

Phase: n/a

Industry: n/a

Voltage: n/a

Rack Mount: No

Rack Units: 0

Bulk Wire: No

Diameter: 0
* Product install times are provided for reference purposes only. Actual install time may vary. Product install times indicate estimated time to install the product under normal conditions based on industry research and does not take into account other considerations such as travel, un-boxing, programming, commissioning, or other factors.