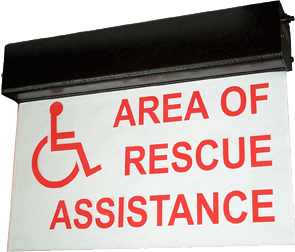 Vendor Note:
Owner Free Freight Excluded From This Vendor
ETP-SIGN/LD
Vendor: Talk-A-Phone
Area of Rescue Deluxe Lighted Sign
Notes: n/a
Features
Lighted sign is attractive and attention-getting
Includes battery backup in case of power failure
Aids with ADA compliance
High intensity red LEDs
Attractive aluminum extrusion design
High clarity, optically true acrylic panels
Product Dimensions
Other Information
Install Hours: 0 *

Phase: n/a

Industry: n/a

Voltage: n/a

Rack Mount: No

Rack Units: 0

Bulk Wire: No

Diameter: 0
* Product install times are provided for reference purposes only. Actual install time may vary. Product install times indicate estimated time to install the product under normal conditions based on industry research and does not take into account other considerations such as travel, un-boxing, programming, commissioning, or other factors.