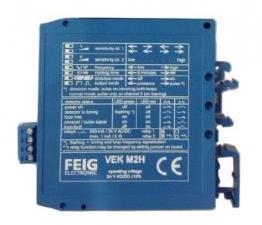 Vendor Note:
Lead Time Varies
MID2E-800
Vendor: Magnetic Automation Corp.
Magnetic AutoControl single channel loop detector for installation on DIN-rails. 24V. VEK M1H
Notes: n/a
List: $232.00
Dealer: $N/A
Features
Evaluation of two loops
Detection of vehicle presence or vehicle direction
Isolated transformer between loop and detector electronics
Automatic calibration of the system after power on
Continuous re-balancing of frequency drifts
Usable for single place parking space supervising
No mutual influence of loop 1 and loop 2 by multiplexing
Sensitivity independent of the loop inductance
Presence signal by LED display
Potential free relay contacts for presence and pulse output
Principle of relay operation changeable
Signaling of loop frequency by LED
Loop connection plug-in for diagnosis
Product Dimensions
Other Information
Install Hours: 0 *

Phase: n/a

Industry: n/a

Voltage: n/a

Rack Mount: No

Rack Units: 0

Bulk Wire: No

Diameter: 0
* Product install times are provided for reference purposes only. Actual install time may vary. Product install times indicate estimated time to install the product under normal conditions based on industry research and does not take into account other considerations such as travel, un-boxing, programming, commissioning, or other factors.